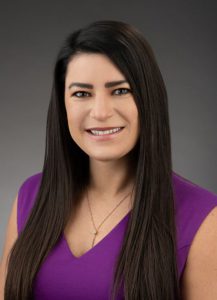 In a continuation of our employee spotlight series, we'd like to introduce one of our senior wealth advisors, Monica Sipes. We asked Monica to answer a few questions about her history in the financial industry, how she got here and what she is doing to lead the way at Exencial.
WHAT LED YOU INTO OUR INDUSTRY?
I grew up with very fortunate financials. Unfortunately, I really had no idea about money, investing or anything of the sort. My father was a high-performing tech executive and had equity participation in a few initial public offerings (IPOs) around the tech boom. He did well, and I never wanted for anything. Looking back, I had a lot to learn!
One day during my freshman year of college, I got a call from my dad, who said that he and my mom were getting a divorce. It rocked my world. When I went home the following weekend, my dad handed me a check for $14,000 while we were sitting at the kitchen table. He told me that was the balance of my education account, and he didn't have anything else for me financially. My dad had just lost his job and was in tears, saying that he had failed me. He had made some bad trading mistakes, been poorly budgeting for many years and was also enduring the financial strain of a divorce.
This single event ended up being the "best" worst thing that happened to me. From that moment on, I learned everything I could about personal finance and investing. I wanted to help save other families from what happened to me and my family, so I decided to become a financial advisor as soon as possible.
I worked my way through college as a receptionist at Sewell Lexus while going to school full time, and was luckily able to graduate with very little debt. I owe Carl Sewell to this day for his company's tuition reimbursement program. If I received an A or a B in my class, I was reimbursed for 100% of the cost of that course. Believe me when I say that I was incredibly grateful for the very generous opportunity.
Looking back, I feel like I needed to experience the struggle that I went through. It made me who I am today, and is why I take financial planning and leadership so seriously.
WHAT MOVES DID YOU MAKE TO START YOUR CAREER IN FINANCE?
I started in the business in 2009 with Fidelity Investments and held several different roles. It really was an incredible training and learning experience. My last role at Fidelity was in sales/advice, and I found myself getting very attached to clients. I wanted to have more of a long-term relationship with them.
I left Fidelity and joined UBS as a new financial advisor at the Dallas branch. About six months into my role, the highest-producing advisor walked into my tiny, closet-like "newbie" office, and I thought I had won the lottery.
He said, "Hey, pack up your stuff and come with me." Then he actually took me into his enormous corner office, set up a desk for me and let me learn from him. I listened to him on the phone all day and learned what he did for clients. He was brilliant with investments and had an incredible impact on me to this day. I think he intended for me to share that office with him for a couple of months, but it ended up being a couple of years. Thanks, Tim.
I eventually found my way to Exencial, where I have also been very lucky to learn from some incredible mentors. John Burns hired me in 2015, and as soon as I understood the capabilities of the firm, I was beyond excited to join. The co-CEO at the time, Jerry Georgopoulos, took me under his wing for several years. I have never worked harder for anyone, but also never learned more from anyone.
Five years later, I have the honor of nurturing relationships with clients as a senior wealth advisor and partner of the firm. So, that's my story. A lot of hard work, a boatload of humility, a little bit of luck and many great mentors along the way. As a female getting into this business in her early 20s, it certainly wasn't always easy. But I am really proud of what I've accomplished professionally, and look forward to the next 25-plus years with my team.
WHAT IS YOUR PHILOSOPHY AND APPROACH FOR WORKING WITH CLIENTS?
Being a steward for my clients is my most important role. Many of these clients have attained or aspire to attain a work-optional lifestyle. I have the honor of leading a team of advisors, specialists and administrative professionals. We all work together with great respect for one another and an unbelievable alignment, while adhering to a set of understood expectations. It's not always easy, but is always worth it — and I think one of the reasons we see such incredible loyalty from our clients is out of respect for the loyalty that we show to them. The expectations that we are guided by include:
Turn a temporary financial problem into a client for life. Do the impossible.
2. Anticipate, follow up and be proactive.
3. Never allow clients to do something for themselves that you can do for them.
4. Let clients know what you can do and what you will do — not what you can't do.
5. Take responsibility. Get it done.
6. Do it right the first time. Pay attention to detail. Make the interaction a delight.
7. Treat every individual as a VIP, triple-A client.
Stay tuned for the next edition of this series, where we will introduce you to Monica's talented team!