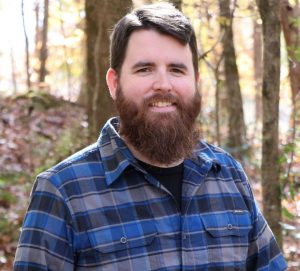 In this quarter's employee spotlight, we'd like to recognize someone who embodies Exencial's core values and works hard to ensure our day-to-day business processes run smoothly: Caleb Stinson, Director of Operations.
With support from his team, Caleb oversees a variety of areas across Exencial's offices, including human resources, information technology, facility maintenance, finance and accounting, as well as legal and compliance.
Caleb's work ethic stems from his upbringing on a farm where his dad taught him that if you were going to do something, you should do it right the first time. He put this mentality into practice working as a custodian for a local church at just 13 and fixing emergency backup generators throughout high school.
After high school graduation, Caleb studied cybersecurity and forensics at Tulsa Technology Center. Although he did not have much experience with computers growing up, he is a hands-on, quick learner and found the mechanical aspects of IT easy to grasp.
Following his time at Tulsa Technology Center, Caleb held various positions over the next several years, gaining experience in management, IT, and project management and support. He did some world traveling as well, including a memorable six months in Nepal.
Eventually, Caleb found his way to Exencial after developing an interest in finance. He learned to appreciate the data and exactness of financial markets, leveraging his mechanical background. He also likes how IT and operations relate back to mechanics, either in function or determining how to most efficiently execute tasks.
More importantly, Caleb was drawn to Exencial's core values that mirror his own: excellence, collaboration and service-mindedness, as well as the firm's E3 process of "Evaluate, Execute, Evolve." He is glad to be part of a culture that emphasizes these ideals and recognizes the value of hard work.
Outside of the office, Caleb enjoys spending time outdoors and with his family. His hobbies include hunting, fishing and just taking a walk around town to get a cup of coffee. Caleb also donates his time to volunteer work and often runs the soundboard for his church. He believes it's important to balance time in the office with time in nature, connecting with others and giving back to the community.