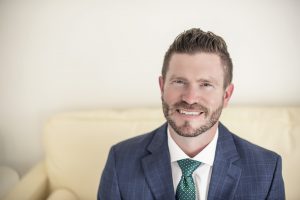 Exencial's employee spotlight series highlights the achievements, experiences and career paths of our team members. This quarter's spotlight features Partner and Senior Wealth Advisor Jared Snider.
Jared's career path didn't lead straight to wealth management. He earned his undergraduate degree from Oral Roberts University with a double major in business administration and music composition. He went on to graduate with the highest honors from The University of Tulsa College of Law, where he was a member of the Order of the Curule Chair and managing editor of Tulsa Law Review.
After graduation Jared went to work as an attorney, focused on real estate litigation and transactions, and estate planning. A couple of years later, he wanted to find a way to serve clients in a more personal and impactful way, so he made the leap to wealth management.
Before joining Exencial, Jared worked at another firm, developing financial plans and advising clients. He started at Exencial as a Wealth Advisor in 2014, was promoted to Senior Wealth Advisor in 2015 and made Partner in 2019.
In his current role, Jared found his niche, serving clients in the energy field, legal professionals and business owners. He leads a team of financial professionals and ensures their hardworking clients are maximizing opportunities, prepared for critical life events and can achieve their financial goals.
The client-first mentality at Exencial resonates with Jared, and he is an asset to the collaborative environment at the firm, serving as a mentor to other wealth advisors. Jared always tells his clients they will not outgrow Exencial; whatever degree of financial success they achieve, Exencial has the people, service model and solutions to meet their needs.
Outside of work, Jared enjoys playing guitar, saxophone and singing. He and his wife, Lindsey, have two kids and two dogs, and like to spend time traveling, skiing and cheering on the Texas Rangers and Dallas Cowboys. The Sniders also run a nonprofit called Wellstead, which provides retreats for single-parent and foster families, missionaries and individuals processing a tragic event.
Exencial Wealth Advisors is an SEC-registered investment adviser. Any reference to the terms "registered investment adviser" or "registered" do not imply that Exencial or any person associated with Exencial has achieved a certain level of skill or training.