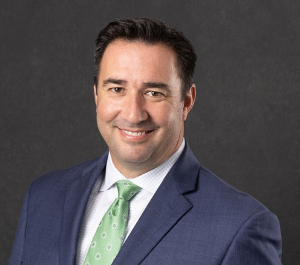 Exencial's employee spotlight series highlights the achievements, experiences and career paths of our team members. This quarter's spotlight features our Director of Wealth Management and Senior Wealth Consultant, Jeff Baty.
Jeff joined Exencial in 2019 as the Director of Wealth Management after working as a financial advisor at a large, national CPA firm for 12 years. He was drawn to Exencial because the company shared his focus of prioritizing clients' needs and goals through customized portfolios built around financial planning.
During his time at Exencial, Jeff managed the team of advisors. He is passionate about his role and takes his responsibility of helping people with their financial futures very seriously. After more than 20 years in the industry, Jeff has seen firsthand how proper wealth management and planning can change someone's life for the better, which fuels his passion even more.
Jeff is proud of the talent and depth of knowledge of the advisor team. He likes to say there is a lot of power in-house and the team is able to handle everything that clients need to manage their financial lives. Whether it's wealth management, financial planning, tax planning or estate planning, Jeff and his well-rounded team have the experience and expertise to assist clients.
Looking towards the future, Jeff and the Exencial team's goal is to help 10,000 families in ten years live the life of their dreams and spend life wisely. Jeff works diligently to add clients and work with advisors who share his vision of helping clients achieve their financial goals.
Jeff is a graduate of the University of Central Oklahoma. He and his wife are about to celebrate their 20th wedding anniversary and share a 12-year-old daughter. Outside of work, Jeff enjoys spending time with his family outdoors boating, camping and golfing.
Exencial Wealth Advisors is an SEC-registered investment adviser. Any references to the terms "registered investment adviser" or "registered," do not imply that Exencial or any person associated with Exencial has achieved a certain level of skill or training.