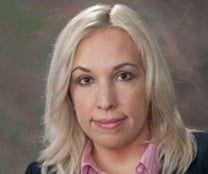 Each quarter at Exencial, we like to recognize the achievements and unique contributions of our valued team members. For the employee spotlight series this quarter, we are featuring Julia Ellingwood, Lead Tax Senior
Originally from Ohio, Julia attended and graduated from Kent State University with a degree in Business Administration, and received a graduate-level certificate in accounting from the University of Washington. Following her schooling, Julia worked at a few different accounting firms across the country before landing a job at Netting & Pace in 2013.
Julia enjoyed getting exposure to both sides of the business at Netting & Pace – tax and RIA. Because of this, she was able to cross-train, gaining knowledge far beyond her tax compliance work, which proved beneficial when the firm was acquired by Exencial in 2016. During the transition, she was impressed with Exencial's growth story and commitment to future plans and goals.
As she nears her seventh year at Exencial, a big part of Julia's role is getting out tax returns and tax planning for clients. She also is constantly researching tax compliance laws, following legislative changes and answering questions from clients and colleagues.
Julia technically works for Exencial's San Antonio office but is often found assisting and mentoring her coworkers in our offices across the United States, all while working from her home office in Washington state. She was among Exencial's earliest fully remote employees, having left Texas in 2017 to beat the heat and return to Washington. She notes that working from home and having some additional flexibility pushes her to go the extra mile for clients and coworkers.
When it comes to her favorite part about working at Exencial, Julia can't pick just one. Because she is no stranger to changes, moves or transitions, she loves how much the job challenges her and how she is constantly learning and asking new questions. She also values the collaborative environment and team effort that has made Exencial a great place to plant herself.
Julia is a licensed CPA in both Washington and Texas and earned the Personal Financial Specialist credential in 2021 from the American Institute of CPAs.
Outside of work, Julia likes to take in the natural beauty of Washington. She is not too far from Mount Rainier National Park, where she spends a lot of time hiking and sightseeing. Julia also spends a lot of her free time with her family and playing tennis.
Exencial Wealth Advisors is an SEC-registered investment adviser. Any references to the terms "registered investment adviser" or "registered," do not imply that Exencial or any person associated with Exencial has achieved a certain level of skill or training.