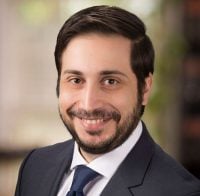 For this quarter's employee spotlight, we'd like to introduce Pete Trontis, Senior Portfolio Manager, who joined us following our merger with North Carolina-based Willingdon Wealth Management in June of this year.
With over three years of experience on the Willingdon Wealth Management equity team, Pete co-manages the Core Equity Strategy. He conducts research to identify high-quality companies that exhibit a sustainable, competitive advantage for several additional portfolios including the Defensive Equity, Equity Income and Thematic ETF Strategies.
Pete closely watches the market so each portfolio is well-positioned for a variety of future movements. Since the merger, he is thankful for the exposure to a wider research universe and new talent. Through the nature of his role, Pete sees firsthand how the addition of unique backgrounds and diverse problem-solving techniques have strengthened the firm and its team-oriented approach.
Pete began his career at Bank of America in the risk management department after earning a degree in finance and economics from DePaul University in Chicago. For about eight years, he focused on credit and mortgage-backed securities.
After earning his Master of Business Administration (MBA) from Duke University in North Carolina, Pete applied for a research analyst position at an asset management firm in Charlotte. It was during this experience that Pete realized his passion for stock picking and portfolio management, which led him to Willingdon Wealth Management where he earned his CFA charter.
Pete's natural curiosity translates nicely into his favorite part about being a Senior Portfolio Manager at Exencial — learning something new and being challenged every day. Making informed investment decisions requires spending time understanding a company and its industry. His inquisitive nature helps him identify the forces ruling a particular company or industry and determine if that company is a good fit for one of the investment portfolios.
Outside of the office, Pete loves to travel. Ever since he was a young boy in Athens, Greece, his life ambitions have been to visit foreign places, understand culture and see the world's beauty. And while the coronavirus has thrown a wrench into his travel plans, Pete has discovered a new appreciation for gardening as he spends more time at home.