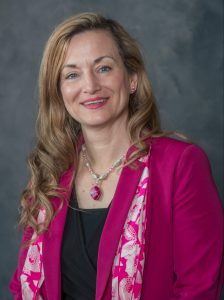 Exencial's employee spotlight series highlights the achievements, experiences and career paths of our team members. This quarter's spotlight features our Tax Director, Ada Cartright.
In her role, Ada is at the core of Exencial's holistic business model, providing tax support to our advisors. She ensures that each advisor receives assistance from a member of the tax team based on their client's unique needs. Additionally, Ada works with her team to solve the most complex tax issues, determine the consequences of investment decisions and develop strategies for businesses and high-net-worth clients.
Ada's interest in accounting began at a young age. She was fascinated by her father's stories as an accountant at USAA. Ada took bookkeeping and business development classes in high school, and went on to study accounting at Texas A&M University.
After graduation, Ada began her career as an auditor at Arthur Andersen. A few years later, she made the decision to leave her job to become a stay-at-home mom. Ada transitioned back to the workforce in 1999 and accepted a position on the tax team at Netting & Pace in 2002. In this role, Ada developed close relationships with her clients and the firm's management team. She enjoyed Netting & Pace's combination of wealth management and tax planning.
That unique approach led her back to the firm after spending two years as a private accountant. In 2011, Ada was asked to rejoin Netting & Pace as a Senior Tax Manager. She accepted the role and spent several years managing the tax and administrative teams and analyzing tax materials for individuals, trusts, estates, corporations, partnerships and nonprofits.
In 2016, Ada learned that Exencial was acquiring Netting & Pace. While initially concerned with how her position would change, after meeting with Exencial's leadership team, Ada was quickly impressed by the firm's strategic vision and culture.
She particularly resonated with Exencial's commitment to employees and clients as well as our mission to grow sustainably and meaningfully. She found this dedication to be especially true during the COVID-19 pandemic and transition to remote work.
Outside of the office, Ada enjoys reading, exercising, being outdoors and spending time with her four children, Travis, Dylan, Zoee and Tony as well as her husband, Mike, and their three dogs. Ada is active in her church, where her husband is a deacon, and is a member of their women's leadership team. She takes a holistic approach to her health, focusing on her mental, physical and spiritual well-being. Ada is thrilled to be a part of Exencial and help support our own holistic approach to wealth management.